Fashion
Fashion accessories
Fashion women
Shoes
Leather Weather is Coming: 4 Outfits You Will Love
It's that time of the year when the leaves start falling, and the air gets chilly. That's right; it's leather weather season! Leather outfits are not only super stylish but also perfect for keeping you warm and cozy. Let's check out four awesome leather outfits that will define this season.
Cool Leather Jacket Look
A leather jacket is like a superhero cape for your everyday style! It's the go-to outfit for autumn and winter. You can find leather jackets in different colors like black and brown or even cool shades like burgundy or navy blue. Pair your leather jacket with jeans, and you'll look effortlessly cool. Throw on some sneakers, and you're ready to conquer the world!
Chic Leather Skirt Comb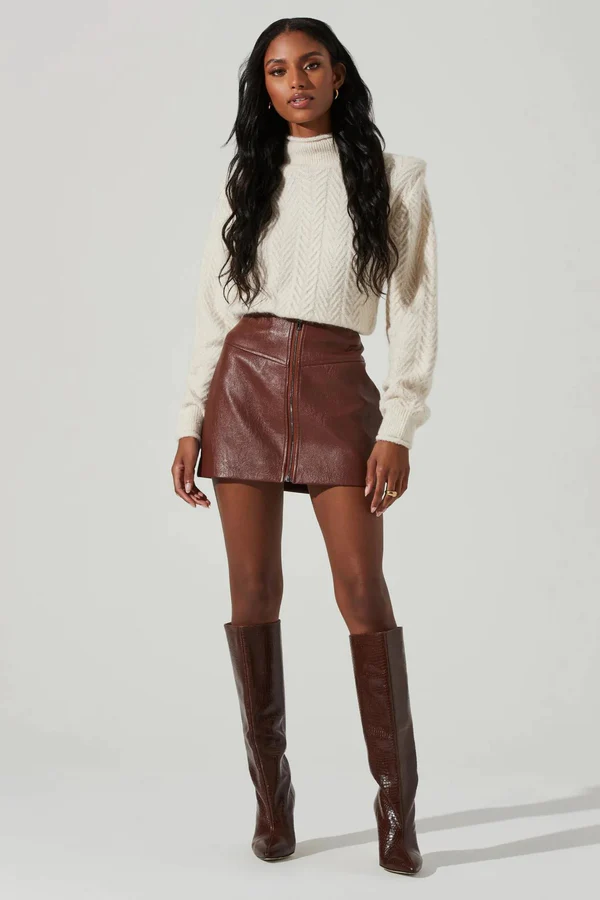 For all the little fashionistas who want to rock a leather look but not a full leather outfit, a leather skirt is your perfect pick. Pair it with a cute sweater, tights, and ankle boots for a chic and cozy outfit. Remember to add a stylish belt to complete your look. You'll be turning heads at school or any fall outing!
Leather Leggings for Extra Warmth
When the weather gets extra chilly, leather leggings are your best friend. They're like regular leggings but cooler and warmer! You can wear them with a long sweater or an oversized hoodie. Add some trendy sneakers, and you've got a comfy yet fashionable outfit. Leather leggings will keep you toasty while you conquer your autumn adventures.
Rockin' Leather Dress
If you want to stand out and make a bold fashion statement, a leather dress is the way to go. Whether it's a short one for a playful look or a long one for a more elegant style, you'll look like a superstar. Pair it with some cool boots or shiny flats, and you're ready for any special occasion or holiday party.
Accessorize Your Leather Look
Now that you've picked your leather outfit, it's time to accessorize! Add a stylish hat, a chunky scarf, or some fun jewelry to make your outfit pop. Accessories can take your look from great to amazing. So, remember to have fun with them and express your unique style.
Choose the Right Colors
Autumn is all about those warm and cozy colors, and leather outfits are no exception. Look for leather pieces in earthy tones like brown, tan, or deep green. These colors match the season perfectly and give your outfit that autumn vibe.
Stay Cozy with Layers
When it gets really chilly outside, layering is the key to staying warm and stylish. You can wear a turtleneck under your leather jacket or add a cardigan over your leather dress. Layering not only keeps you cozy but also adds depth and dimension to your outfit.
Don't Forget About Comfort
Fashion should always be fun and comfortable. Make sure your leather outfits fit well and feel comfy. Leather might seem stiff at first, but it gets softer as you wear it. So, choose pieces that make you feel great and confident.
Boots – Your Leather Outfit's Best Friend
To complete your leather look, you'll need some fantastic boots. Whether it's ankle boots, knee-high boots, or even some cool combat boots, they go perfectly with leather outfits. Boots not only keep your feet warm but also add a touch of style and attitude to your ensemble.
Confidence is Your Best Accessory
No matter which leather outfit you choose, the most important thing is to wear it with confidence. Your smile and self-assuredness are your best accessories. Walk with your head held high, and you'll rock your leather weather and look like a true fashionista!
Conclusion
Leather weather is here, and it's time to show off your stylish side. Whether you go for a cool leather jacket, a chic leather skirt, comfy leather leggings, or a rockin' leather dress, remember to have fun with your outfit. Add some accessories, choose the right colors, and stay cozy with layers and boots. Confidence is your secret weapon, so wear your leather outfits proudly and enjoy this fabulous season in style!