Fashion
Fashion women
2023 Green Women's Clothing Ideas You'll Love
Overalls were all the rage back in the '90s and as you know, fashion always makes a full turnaround and today, overalls are making a steady return. They have always been fun and fashionable. Whether you are looking for a trendy outfit or just want something cozy and cute this fall, there is an overall out there that will fulfill your fashion needs. No longer belong to the farmers or children, overalls have taken over the Instagram feeds of fashion girls and fashion influencers all over the world.  These outfits can be dressed up with heels or dressed down with sneakers or sandals.
The classic denim overalls are a closet necessity and super easy to style. However, they are not the only options available. Green overalls are trending hard this season and they give you the chance to wear something different from the norm. No matter if you are heading to a picnic in the backyard to brunching with the girls, green overalls are simple yet a trendy choice. Below are some green overalls options that will make you happy that they never really go out of style.  Check them out below.
Grapent Overalls for Women
This is one overall that stands the test of time. Grant women's green overalls are cross-generational and cross-seasonal. It features body inclusive style and an easy-to-wear silhouette. The high-rise relaxed bib overalls have adjustable straps with buckles, a front bib pocket, a side button closure, side functional pockets, and back pockets. This loose-fit green overall also has an optional cuffed hem.
Image from https://www.amazon.com/GRAPENT-Overalls-Jumpsuit-Overall-Evergreen/dp/B0C49T3B72/
Yeokou Women's Casual Overalls
Made with lightweight breathable soft material, this sleeveless green overalls is simple and stylish. It has a baggy pants design that is easy to pair with shirts, blouses, and sweaters and layer over any cardigan and sweater. Made with 85% Cotton and 15% linen, this short overall is comfy, lightweight, and breathable.
Dickies Women's Cooling Ripstop Bib Overalls
A versatile bib overall that can navigate warm weather and changing working conditions with ease, Dickies Women's Bib Overalls is made with intelligent cooling temperature control, it will help to maintain the ideal climate whether you are indoors or outdoors. It has comfortable elastic bib straps that won't dig into your shoulders and allow for extra mobility while bending and squatting. This overall also features multiple pockets throughout the design to ensure secure storage.
Levi's Iconic Jumpsuit
Style with a relaxed but structured fit, this iconic jumpsuit features a button-down front and a cinched waist, while the wider straight-leg silhouette finishes the look.  It has a button-front style with a relaxed yet structured fit.
Universal Thread Women's Sleeveless Jumpsuit
This Sleeveless Green Jumpsuit from Universal Thread is the perfect choice for all your warm-weather activities like picnics, backyard barbecues, and many more.  Made of mid-weight cotton, the solid-color jumpsuit has a unique elasticized square neckline and wide shoulder straps. The sleeveless jumpsuit features a cinched smocked waist with bow detail on the front for a flattering look. It also has roomy side patch pockets for functional flair. Layer over with a cardigan during transitional weather.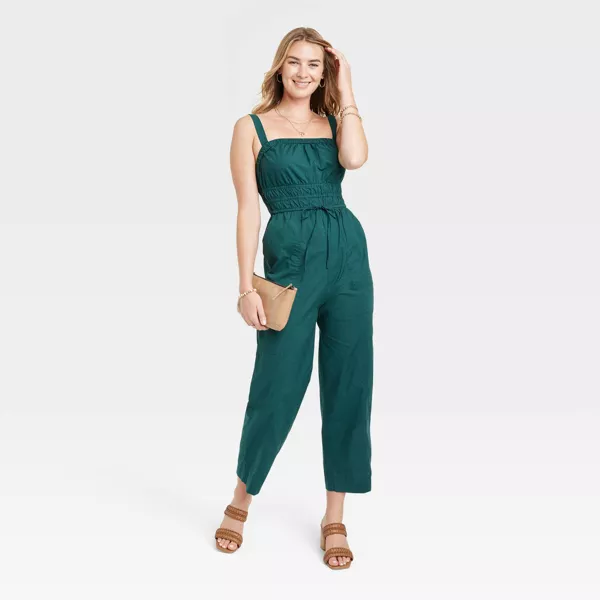 Women's Bib Overalls Casual Summer Sleeveless Jumpsuits
This green baggy overalls features a sleeveless silhouette and has 2 front pockets. It is comfortable to wear and baggy enough to offer movement.