Beautiful tips
Fashion accessories
Best Candles Set the Chicest vibe for New Year
Purchasing scented candles this winter can help you create a cozy and peaceful atmosphere and get in the mood for the holidays. After all, what could be better than enjoying those chilly winter nights with alluring scents? Allow yourself to be surrounded by perfect candles and upscale perfumeries to introduce into your home, which ranges from woods to verbena, vetiver, and cinnamon.
Winter is the perfect season for candles. The wind is strong, the weather is chilly, and your candle collection will bring a sense of surprise and freshness to the space.
Candles go along with enjoying snug and comfortable items. When we want to transform our house into a paradise, we start with the accessories, from the plushest slippers to blankets we could curl up in for hours. So, in the spirit of getting ready for the prolonged, mood-lit season to come.
On the plus side, the best time to light candles is during the winter. The ideal warm security blanket against the gloom and darkness is a lit candle.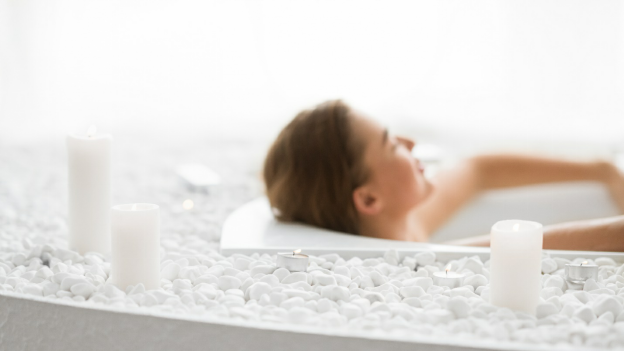 If keeping a supply of candles is part of your wintertime self-care routine, here are some of the best-scented candles you might want to add to your collection.
Is there a better time of year to stay in, light a delicious candle, and take a bath? The atmosphere is being created for rest, relaxation, and recharging as we fully embrace our homebody tendencies.
Let's discuss the best candles that create the chicest vibes in winter.
1:DEUXMOON PHASES CANDLE:
Take your passion for candles to new heights. Each of the four candles in this set has a perfume that goes with the current moon phase. And while you can fire each one separately to correspond with the current phase, you can burn them all at once to produce a "heavenly" smell. There isn't a better present for aspiring mystics in my life.
2:P.F. CANDLE CO BLACK FIG SOY CANDLE:
I enjoy using fruit in all of my baked products and smoothies, and I now enjoy having access to its calming aroma throughout the day. Expect something similar to the warmth of your favorite fuzzy blanket if you haven't already fallen in love with fig. You'll enjoy being enveloped in its sweet-spicy aroma.
3:Byredo Chai Candle:
This candle, one of Byredo's best-sellers, was influenced by the customary tea ceremonies practiced in India. Thanks to tones of ginger zest, clove buds, cardamom, violet, and incense, it smells like warmed milk and black tea. This is for you if you enjoy masala chai, and who doesn't?
4:Affirmation Culture Solo Candle:
Affirmation Culture's Solo Candle fits this description since for some people, lighting a candle is more about the soothing flicker of a flame and the soft light it emits. Although the company sells a variety of lovely, scented candles, this one is unscented. Therefore, this candle is for you whether you have allergies, sensitivities, or simply want to enjoy the calming effects of candlelight alone. Additionally, it includes an affirmation card that you can read aloud each time you light it.
5:knowing alpine:
Knowing that alpine is the ideal fusion of rich pine, citrus, and patchouli notes and evokes an elegant smell. It is contained in a lovely handmade ceramic jar with a cover that matches, which will look lovely on any mantel. When the wax runs out, it can also be filled again.
This gentle and unobtrusive combination is plenty to help you unwind and feel more centered and grounded if you're having trouble finding inner peace, especially during the frantic party season. Additionally, the founder uses these candles to hold meditation ceremonies at The Mandrake Hotel, which are highly recommended if you live in or are traveling to London.
Conclusion:
Candles have several health advantages in addition to being a lovely decorative item and a great addition to any room. By reducing stress, you can lessen your risk of developing several illnesses and contribute to the fight against anxiety and depression.
Consider aromatherapy while choosing which candles to burn in your home and utilize specific scents to evoke emotions.