Beautiful tips
Dressing skills
Fashion women
Women clothing
Dress+Black Jacket, Wear This Way in WInter
It doesn't matter what time of year is on the street, some fashion combinations are eternal, like our favorite combo of a simple dress and a black jacket. These two essential wardrobe pieces are the best partners in crime, they go together like Bonnie and Clyde, always waiting for you to pair them in your next outfit. Wondering how to unite them in the best way possible? Then you are going to adore these ideas.
A classic, black jacket, layered over a simple midi dress is what we like to call a win-win combo. Nothing can beat the stylish simplicity and chic of this outfit. If you are feeling just s slightly more adventurous with your look, pair your classic black jacket with romantic lace, or ruffled dress. Opposites attract and create a wonderful appeal.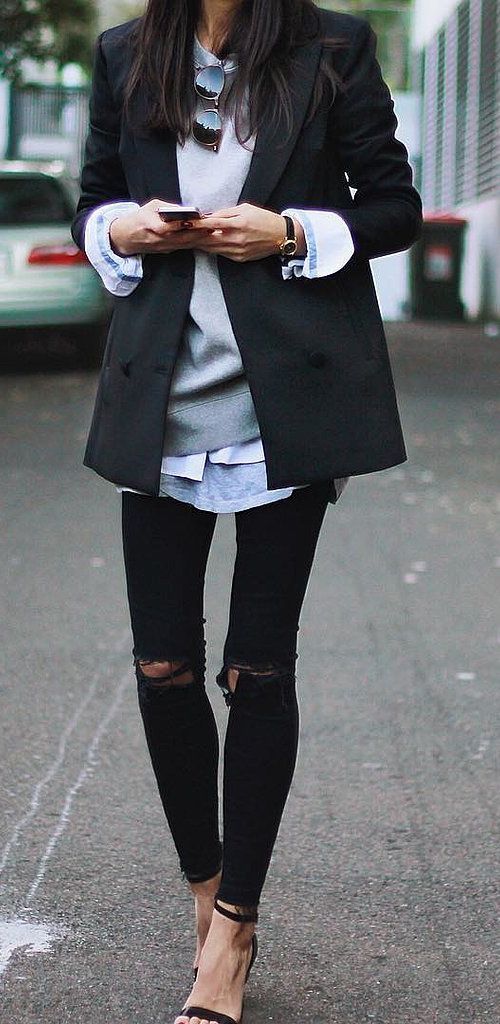 Who said that your black jacket from your work suit can't be styled in a completely new, unexpected way? Make it possible this winter with a white, slimming body and a pair of ripped skinny jeans. Keep the bottom part of your outfit plainer, but the bottom part edgier. A pair of daring cowboy or combat boots will give you a hand with that.
We all are used to see a fashion match with a white t-shirt and a black leather jacket. To give this typical look a new approach wear a printed white tee underneath the jacket. Small, repeating print or pattern won't be as prominent as large, bold letters, so choose a tee with printed words or phrases.
There is one more way to match your black jacket with a white tee. But, this time, your tee has to be cropped and jeans, or pants high-waisted. Of course, such an ensemble won't be suitable for colder countries, but, if you live in a climate, where the winter isn't too cold, you'll love wearing this outfit.
One of the most interesting methods of wearing a classic black jacket is to put something vivid and unusual underneath it. Have you ever considered a colorful neck-high jumpsuit? We find this variation very courageous. Especially, if you are going to add even more bold accessories or shoes. However, try keeping your makeup and hairstyle less tense, to keep the rest of this winter outfit balanced.