Beautiful tips
Dressing skills
How to match the best in spring? Look at FEELINGIRLDRESS
Spring is here, this season many girls especially want to wear a beautiful dress and go for a walk under the sunshine …
On feelingirldress.com, find your favorite style skirt. We offer a variety of styles, complete sizes, affordable plus size clothing are also launched. Today, I'm going to provide you with a few ways of collocation of spring dress outfit.
Not only that, our website often launches some comprehensive discount activities. The content of the activities covers various categories, for example cheap wholesale plus size clothing, which will definitely give you the opportunity to buy your favorite products at the cheapest price.
Suit + dress
The "suit + dresst" combination has always been a popular mash-up method that is popular among fashionistas. Especially after the strong return of the suit in the past two years, the suit has become more and more fashionable from the formal dress. The "suit + skirt" balanced dressing rule is the most popular attitude in the current fashion circle. The elegance, intellectual and handsomeness of the suit, plus the gentleness, romance, cuteness of the skirt, sweet and handsome, can commute and go out of the street, is undoubtedly a perfect combination.
Windbreaker + dress
The windbreaker is also a spring coat. Although the flowers bloom and the short coat is more convenient for daily needs, the thin gown like the windbreaker is still very practical. "Windbreaker + dress" has always been a passionate combination of many girls. It is naughty in elegance and intellectuality. The texture of the windbreaker can also make the posture more upright. The solid color windbreaker can perfectly match various skirts, even if it usually feels too flowery Or a glamorous skirt, because of the cover of the windbreaker, the exposed area is small, and it may also look good. So this combination will undoubtedly double the beauty, fashionable and eye-catching.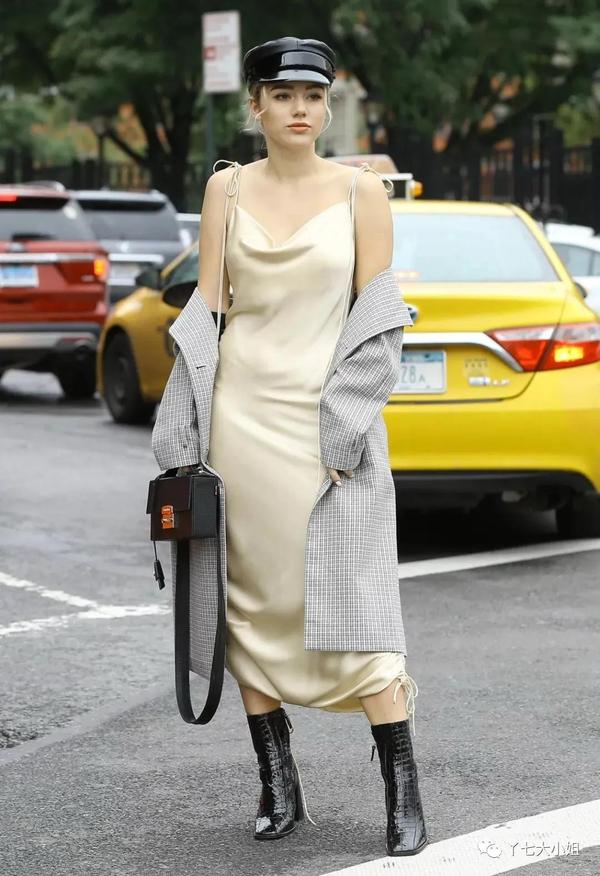 A bandage dress might be a perfect match for this combination. Go find one on our website.
Leather + dress
Leather coat is one of the best single pieces to play cool, is an artifact to create personality. The dress is the ultimate feminine, so the contrast of this group is more impactful. Modern women are pursuing "temperament" to express independence and individuality, so they need some "temperament" pieces to add a "taste" to their femininity in order to truly upgrade into a powerful "goddess temperament", so use leather coat to match the dress, full of attracktion, but not too tough.