Beautiful tips
Dressing skills
Fashion
Long-Sleeved Dresses Essential for Autumn
Long-sleeved dresses are a must-have item for early autumn. Every fashionable girl looks glorious when wearing long-sleeved dresses. The long-sleeved dress with an elegant buff is indeed a very good item to enhance the temperament, but it is still very difficult to control the long-sleeved dress. If you are not careful, you will wear out a sense of nightdress, which would be very embarrassing. Today I will recommend three dressing tips to fashionable girls who are passionate about long-sleeved dresses, so that your long-sleeved dress can perfectly set off your fashion aura!
Tip 1: Shorter skirt's hemline
The first point that everyone needs to pay attention to when choosing long-sleeved dresses is that you can't choose long-sleeved dresses with too long skirt hemline. A dress with long sleeves should take up more visually. If you choose a long skirt with a skirt hemline that is too long, it will easily leave the impression of procrastination.
The matching of long sleeves and short skirts is completely alright so that the matching will give people a very intuitive and refreshing feeling. Moreover, the reason why long-sleeved dresses are easy to look like nightdresses is that the skirts are too loose, but when you show the design of the protruding waistline, the difficulty of controlling long-sleeved dresses will be much lower. The upper body of a long-sleeved dress with a shorter skirt can easily show a good figure of girls. Girls who worry about their thick thighs don't have to worry at all. Choose the skirt length above the knee will be just right.
Tip 2: Looser sleeves
When choosing long-sleeved dresses, pick long-sleeved dresses with lantern sleeves are more fashionable and wl make you look thinner. Lantern sleeves are very friendly to girls who have fat on their arms. Compared with the narrow and slim style, lantern sleeves can not only modify the arm lines but also the design with the bottom tucked can make it look thin. Girls who dare not try the long-sleeved dress because of the fleshy arms can try the lantern-sleeved dress, which is a perfect choice for you.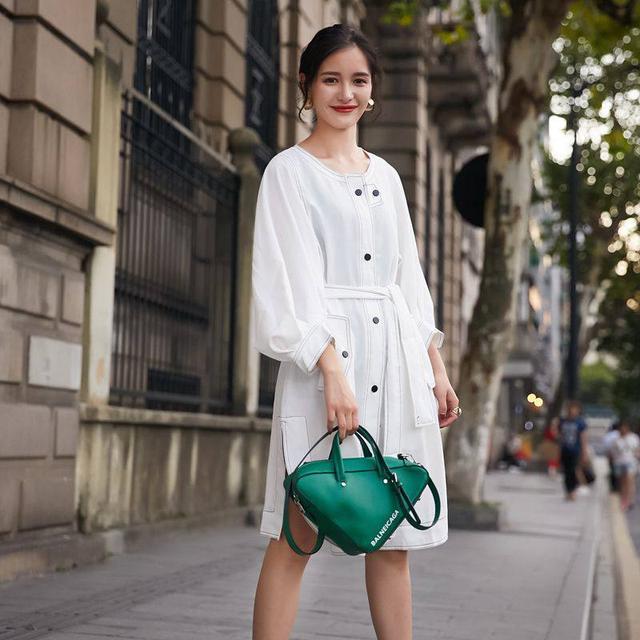 Tip 3: Brighter colors
Long-sleeved dresses are originally loose and casual styles. If dark colors such as black are used in a large area, it will give people a very depressing feeling. Even girls who want to use dark colors to make them look thinner can have a better choice. Sometimes a dull dark color and a long-sleeved dress will not match together. For beginners of long-sleeved dresses, I would still recommended that you choose bright colors.
It's also nice to wear a long-sleeved dress full of floral elements. Floral element is a design point that is easy to control and easy to roll over, but everyone can successfully control it as long as you master the right amount of elements! The design of this floral long-sleeved dress in the details is very witty. The sleeves are not all designed with floral design, but with a color-blocking design, which weakens the fancy sense brought by the large-length florals and makes it more fashionable. This feminine floral long-sleeved dress is very suitable for going out on a date!