Beautiful tips
The Hidden Truth of Buying A Wedding Dress
Before the wedding, you will be busy with a myriad of preparations, including preparing the wedding dress that you will wear. Although only worn in a matter of hours, the selection of a wedding dress is very important. Of course, you really want to feel comfortable and confident throughout the event.
Preparing a wedding dress is not only about the design of the dress itself. You need to think carefully about the color, the details of the dress, the size that really fits your body to the accessories that you will wear. Well, the preparation steps sound simple, but you won't really know until you experience them yourself. Preparing a wedding dress is not as easy as choosing the dress you will wear on your first date. Some brides-to-be can be very hectic when preparing. Are you experiencing the same thing? Easy, take a deep breath and relax…
Choosing and buying a wedding dress can be a fun activity for the bride and groom, although you are required to do it properly and carefully. Some things may not be revealed when you are looking for tips on purchasing a wedding dress. So, instead of giving you tips for choosing a dress that suits your body shape, this article will give you information on what you should consider carefully before and during the process of picking up your wedding dress. Please scroll down to read it!
1. Budget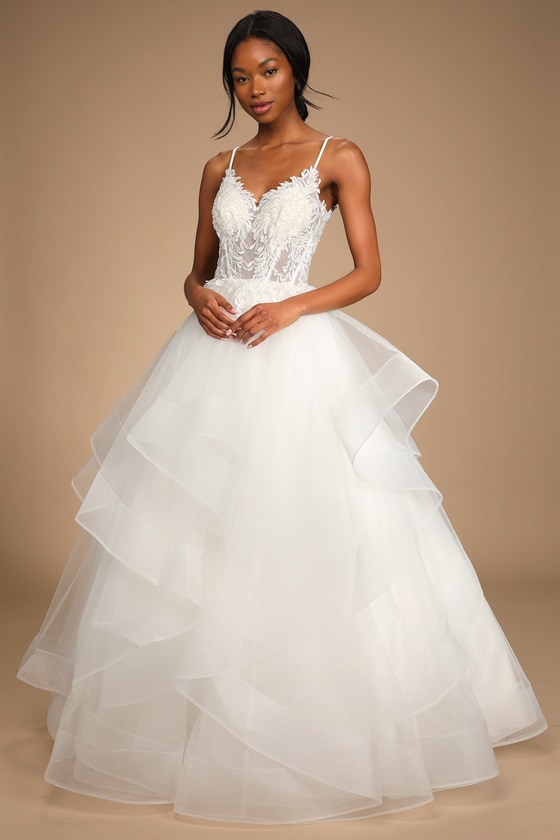 Budget is the very first thing you should think about before going any further. If your dream wedding dress is too expensive and beyond your budget, try making a solution by ordering a similar dress but with more affordable materials. Remember, wedding preparations are not just about the dress, there are many things you have to pay for. So, be wise.
2. Time
The most forbidden thing a bride-to-be does when buying a wedding dress is to make a spontaneous decision. So, do a wedding dress survey well in advance of buying. Ideally, do it 8 or 10 months before D-Day. When you have found your dream wedding dress, there is still time to adjust the size, and dress details, and match the accessories you will wear. Careful consideration before buying a wedding dress will prevent you from regrets in the future. Take it easy and steady your heart.

3. Personal Design
Define your desires clearly. Romantic, classic, elegant, and glamorous themed wedding dresses have their respective differences and advantages. So convey your wishes in detail to the designer or seller, including about your personality and dress style. Don't miss it, also tell me about the concept of the wedding party that you will hold including the location.
4. Designer
Deciding on a wedding dress designer is a pretty serious thing. Indeed, using the services of a professional designer will dig deeper into your pocket but you will get a wedding dress that fits your size and desire. Don't make the mistake of choosing a designer and end up feeling uncomfortable wearing your own wedding gown. But if you feel you need to save money, you can look for dress design inspiration on various websites and create your own version.
5. Advice
Don't hesitate to come to the boutique with friends or relatives who can support and brighten the atmosphere. Your friends can help you to choose a dress that fits and looks flattering on your body. Even though you will decide, there is nothing wrong with listening to other people's opinions and suggestions because all brides want to look beautiful both for themselves and in the eyes of all guests. The presence of people who support us will also calm your feelings during wedding preparations. So, don't hesitate to try on as many dresses as possible so that the dress you choose really suits you.
6. Maintaining A Diet
Maintaining a diet means you need to control your weight. You know, weight is very influential on the size of your wedding dress. Even though the designer has estimated the difference in weight between the fitting and the D day, you also have to make an effort to keep your weight so that it always fits your body. Maintaining a diet can also maintain your health and fitness until the day you've been waiting for arrives.
Well, those are some things you should know before selecting and purchasing your wedding dress. Even though you have to prepare a lot, do it with a relaxed mind and enjoy it so that you can make the right decision.